What is CRT Awareness Week?
National CRT Awareness Week is August 14-18, 2023. These five days are when the Complex Rehab Technology (CRT) community joins forces to collectively share the CRT message.
No matter what role CRT plays in your life, anyone can be an advocate and there are many different ways to get involved. Scroll below for some ideas to help you brainstorm or simply follow NCART on Facebook, Linked In, and Twitter to "love" and share our posts. However you decide to get involved, be sure to use #CRTAwareness2023 with your post so we can see it and celebrate with you too.
We're looking forward to hearing and seeing the great ways people share information about CRT during this week. It is the consistent efforts of many advocates uniting together that create meaningful and lasting changes that will protect access to this unique and important technology. Thank you for finding ONE DAY and ONE WAY to be an active advocate for Complex Rehab Technology this week!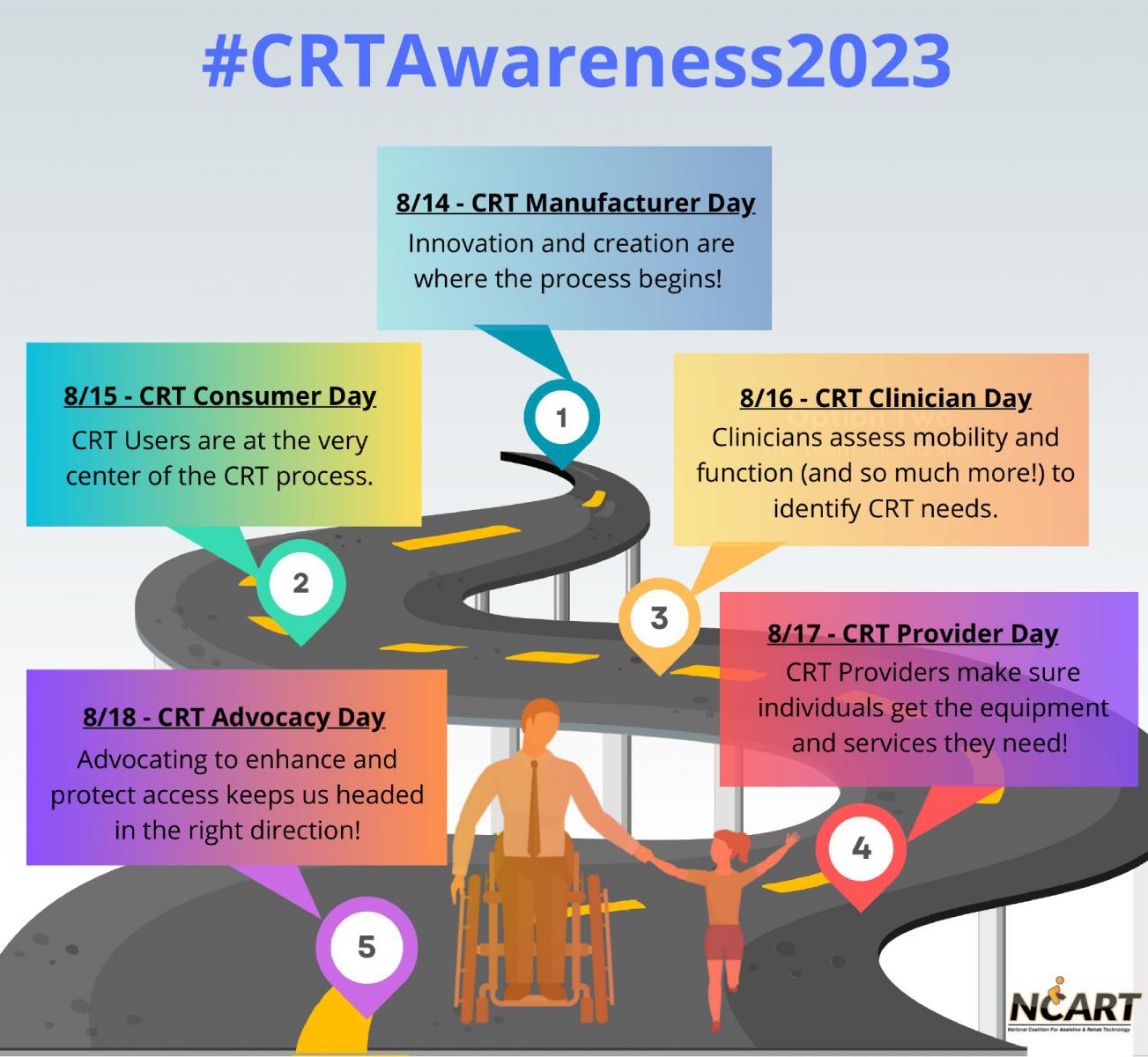 How Can You Get Involved?

Download the graphics below and share them on your social media pages
Make a short video about your Complex Rehab Technology (CRT) and send it to drenehan@ncart.us or post it to your own social media
"Like" and "Share" NCART social media posts during CRT Awareness Week (

Facebook

,

Linked In

, and

Twitter

)

Register

for the September 13 Virtual CRT Congressional Fly-In
Write a blog post describing your CRT and how it maximizes your independence or the independence of someone you know
Post a photo of CRT to your social media
Visit

www.protectmymobility.com

and learn more about advocacy work for CRT
1. Download and Share:
Save these graphics and share them on your own social media pages, email them to friends and family, or use them in other places to increase awareness of Complex Rehab Technology!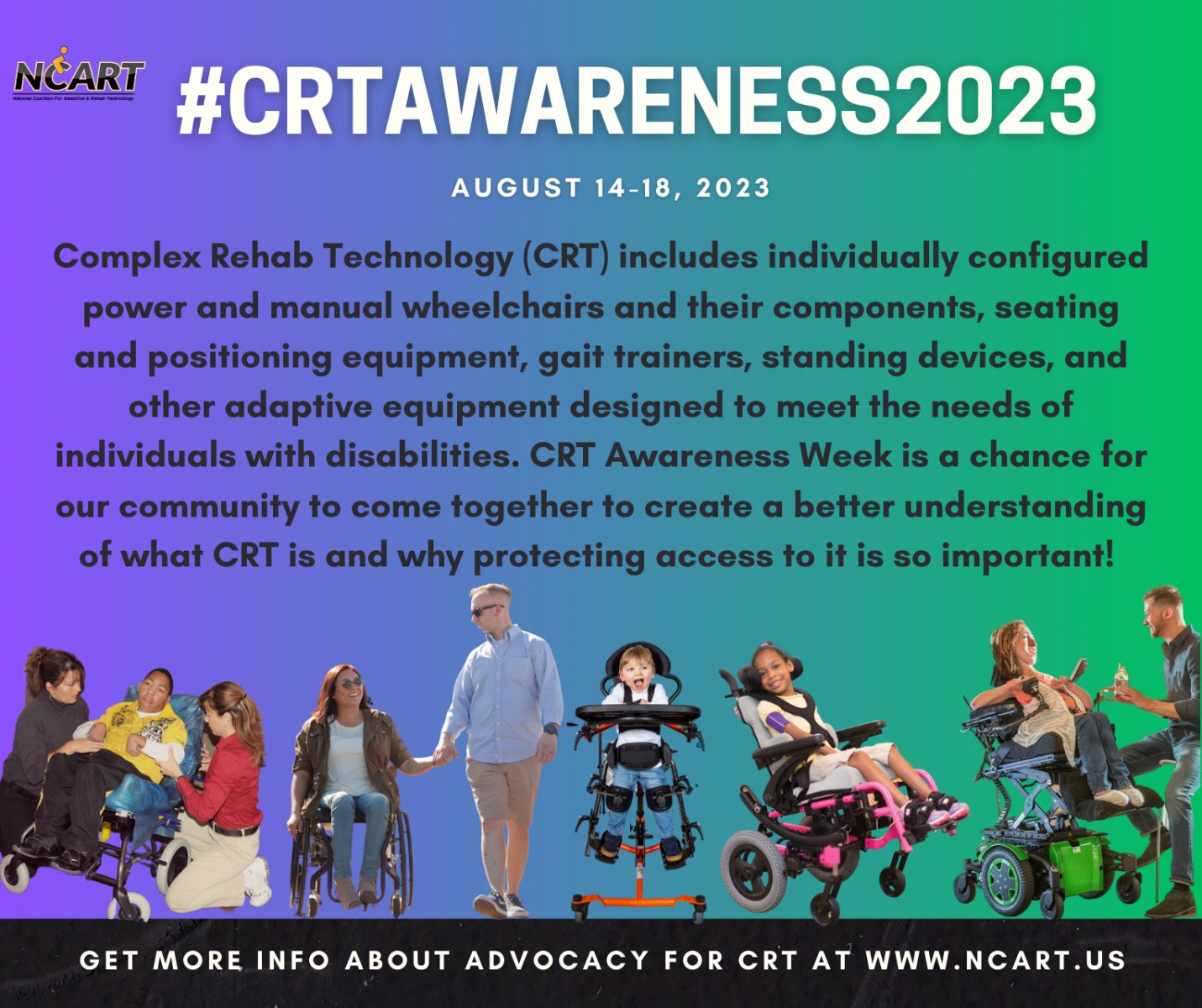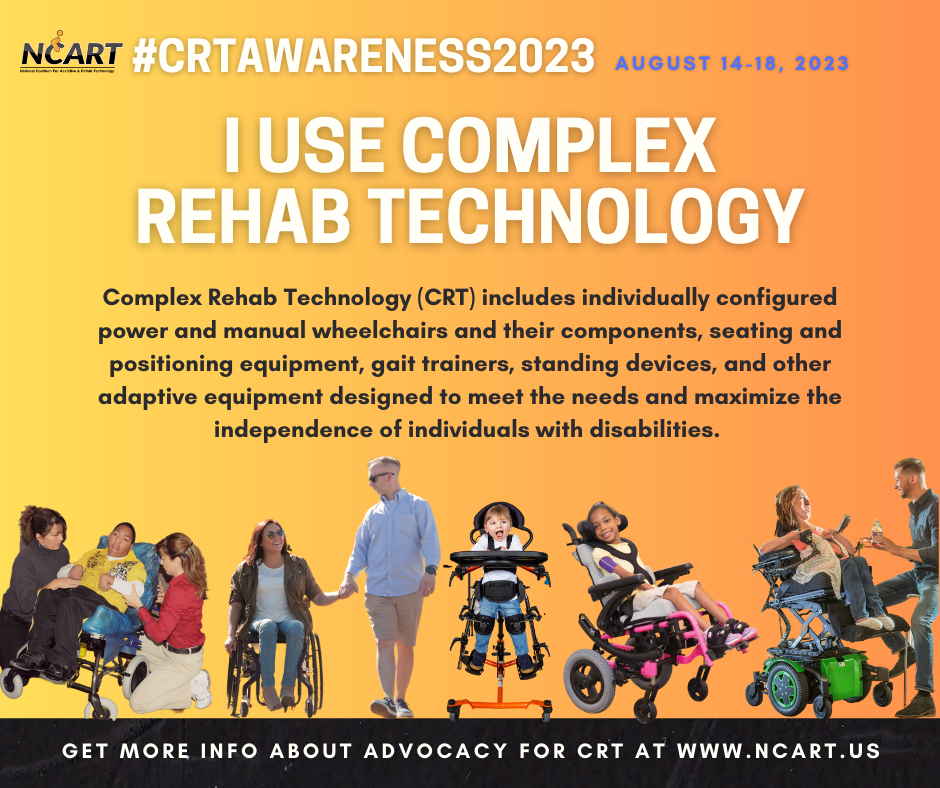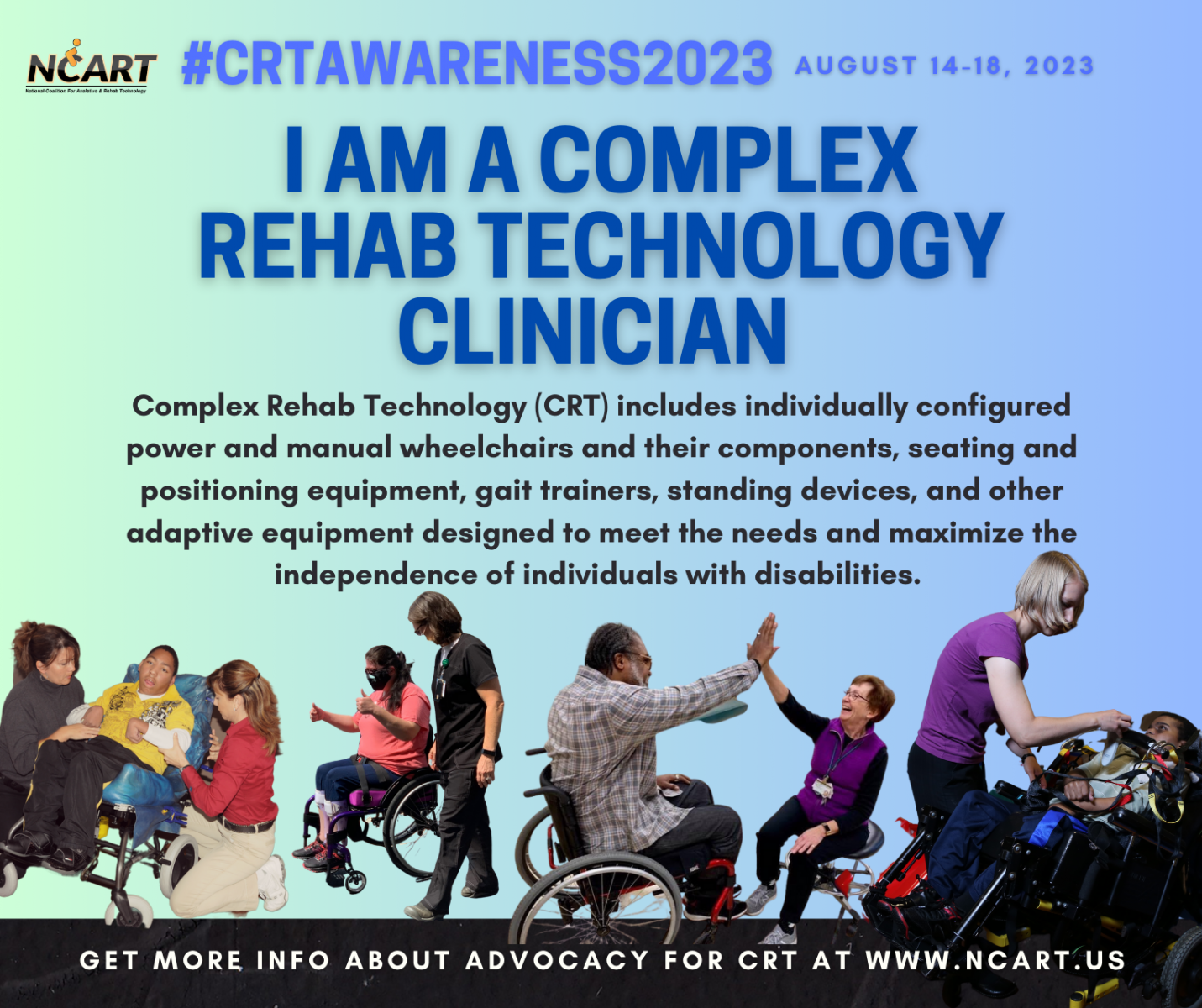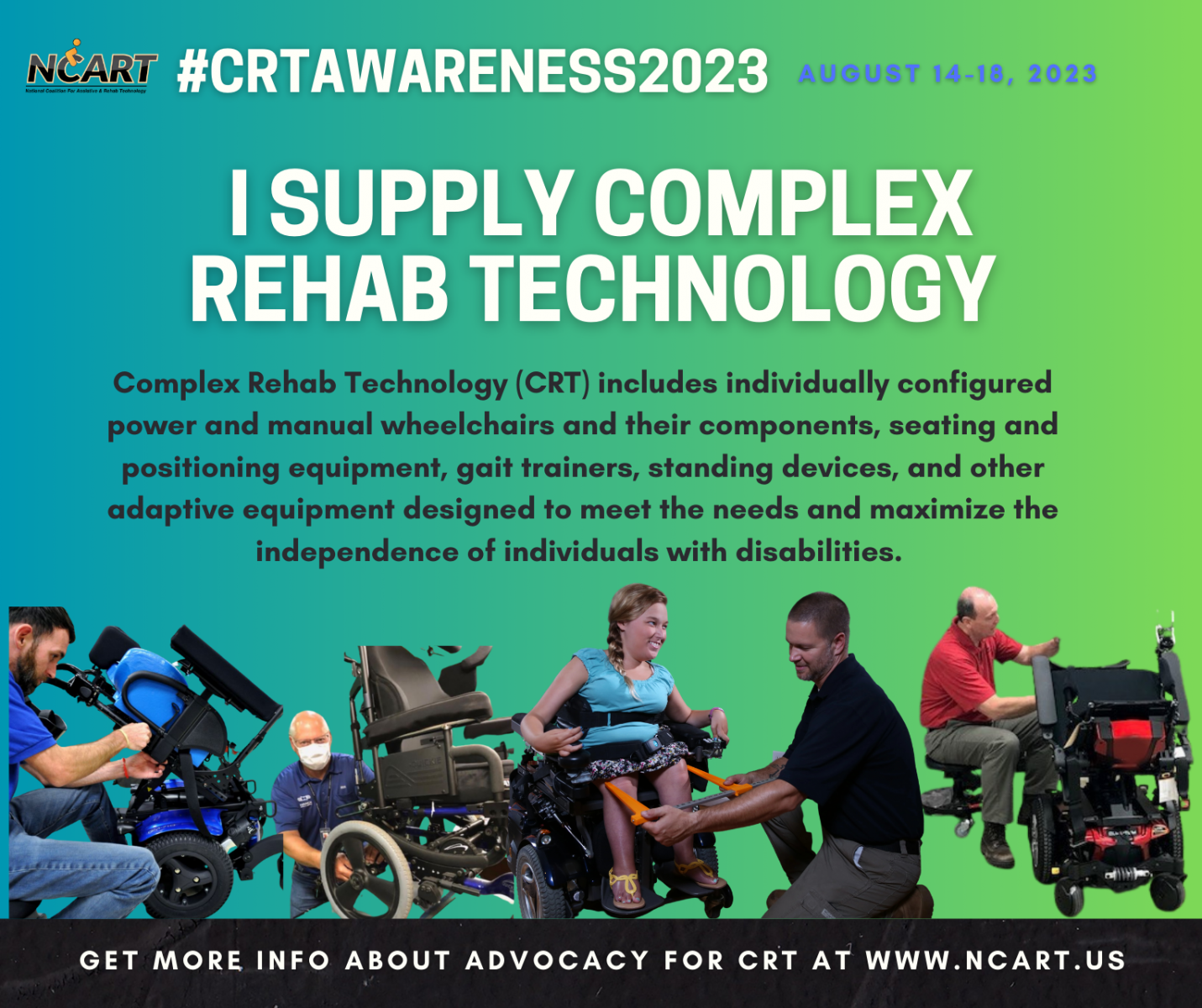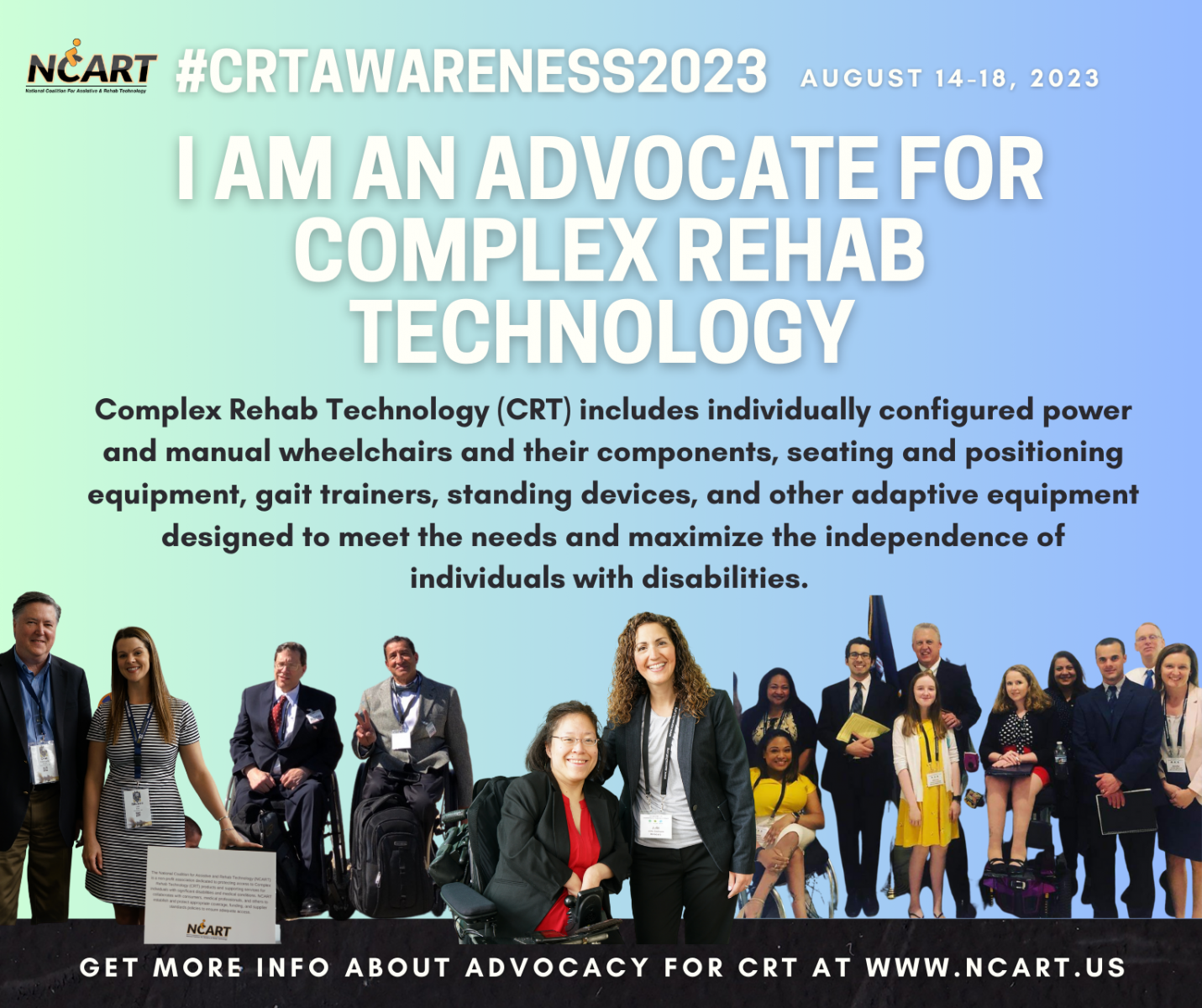 2. Submit a Short Video About Your CRT Story:
We want to hear YOUR stories! For CRT Awareness Week, you can submit a short video recorded by using your phone or computer (whatever is easiest for you!)
When you submit your video, be sure to include:

Self-introductions (names, hobbies, where you live, anything you want to share, etc)
What kind of Complex Rehab Technology you or a loved one uses and how it maximizes possibilities
Why access to Complex Rehab Technology important to you
Why and how you advocate for access to CRT

Once you've completed your masterpiece, email it to us at drenehan@ncart.us (MP4 file format is preferred)
Check out the example video below to get an idea of how to share your own story!
We will compile all of the videos sent our way to create one big advocacy message from our whole community that can be shared to promote access to CRT. We are celebrating how awesome CRT is and want to be able to include your message, so please remember to keep your video positive and constructive.

*Submitting your video to the email above indicates your acknowledgment and permission for NCART to use, at their discretion, your video and images in their advocacy marketing materials. NCART reserves the right to not include any videos with inappropriate messaging or language.

3. Copy and Paste:
If you want to help raise awareness for Complex Rehab Technology but aren't sure where to start, you can just copy and paste the suggestions below!
"Complex Rehab Technology (CRT) includes individually configured power and manual wheelchairs and their components, seating and positioning equipment, gait trainers, standing devices, and other adaptive equipment designed to meet the needs of individuals with disabilities. CRT Awareness Week is a chance for our community to come together to create a better understanding of what CRT is and why protecting access to it is so important! #CRTAwareness2023"
"I use Complex Rehab Technology (CRT) to protect my health and maximize my independence. Access to this specialized equipment is so important for individuals with disabilities. Learn more about organizations fighting to protect it at www.ncart.us. #CRTAwareness2023"
"I am a Complex Rehab Technology (CRT) clinician. I work with individuals every day to identify how this specialized equipment can support their goals and maximize their independence. Then I work with CRT providers to make sure the individuals I'm working with can get the CRT they need. To learn more about the CRT process, visit www.ncart.us. #CRTAwareness2023"
"As a Complex Rehab Technology (CRT) provider, I am dedicated to providing services that ensure appropriate and reliable access to this specialized equipment for individuals with disabilities. To learn more about CRT, visit www.ncart.us today! #CRTAwareness2023"
"Complex Rehab Technology is built with one individual in mind. Each piece of equipment is a custom solution for one specific person. I am proud to be part of a CRT manufacturing team that creates quality products for individuals with disabilities. To learn more about the unique nature of CRT, visit www.ncart.us today! #CRTAwareness2023"
"Working with Congress and other policymakers is a critical part of Complex Rehab Technology (CRT) advocacy. I am participating in the 2023 Virtual CRT Congressional Fly-In on September 13 to deliver the CRT message to my Members of Congress. We need more voices to help share our story and to ask for needed improvements. Join me and get registered for the fly-in by visiting www.CRTAccess.com. Registration is FREE! #CRTAwareness2023"